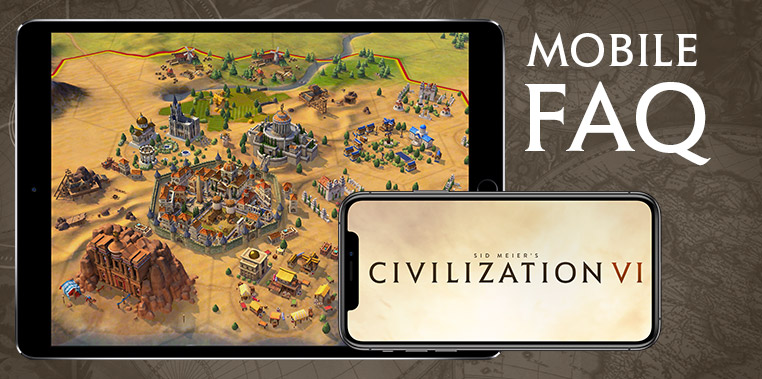 Sid Meier's Civilization VI, named the 2016 Strategy Game of the Year at the Game Awards, is now available on iOS. Rebuilt with touch controls, Civilization VI is the first flagship entry in the award-winning turn-based strategy franchise to be playable on iOS. Your empire is now mobile.
Before you build a civilization to stand the test of time, be sure to check these FAQs for important details on all things Civilization VI iOS. If you've got questions, we've got answers.
Purchasing | Requirements | Gameplay | Common Issues
Purchasing
Q: What content is included with Civilization VI on iOS?
A: Civilization VI on iOS is FREE for the first 60 turns! The full base game does not include DLC or the Rise and Fall expansion.  In App Purchases are available only after the full version is unlocked.
Q: Where's the Rise and Fall expansion?
A: We hope to support the expansion in the future but cannot confirm timing or availability right now.
Q: I already have Civilization VI desktop (Mac App Store or Steam). Can I get the mobile version for free?
A: Since they're separate platforms, the iOS version needs to be purchased individually.
Q: I already have Civilization VI on my iPad. Can I get the iPhone version for free?
A: If you've already purchased the full game on your iPad, you can unlock the full version on your iPhone right now! Just select Restore Purchases from the main menu of the app.
Q: Is Civilization VI coming to Android?
A: We are continuing to evaluate opportunities to bring Civilization VI to other platforms.  IT IS NOW AVAILABLE ON Nintendo Switch!
Requirements
Q: Which iOS devices does this work on?
A: Civilization VI iOS requires iOS version 11.4.1 or newer running on:
* Official support for the new XS, XS Max, and XR coming soon!
Q: How do the touch controls differ from PC?
A: The touch controls are very intuitive:
       Tapping units selects them. Dragging a unit to a tile will move and attack.
       Press and hold to view tooltips.
       Pinch to zoom the map.
       Single-finger scrolling works on lists and moving the map.
       Three-finger tapping can be used to close menus.
Q: What UI updates are specific for the iPhone?
A:
      The unit actions panel has been modified to accommodate the small screen size.
      The turn button has been reduced to only display the main icon.
      Buttons in all four corners of the screen are now collapsable to allow more screen space.
      Build options for builder units are now displayed horizontally along the top of the unit     panel.
      Notifications can now be viewed in full screen when selecting the notification button.
      The Game Options and Civilopedia buttons have been moved to the left of the turn counter.
      In-game Map Options have been moved to the Interface tab of the Game Options menu.
      iPhone X exclusive orientation
Q: Is iCloud saving enabled to sync progress between my iOS devices?
A: Not at this time. However, saves can be moved manually using the steps below:
Exporting saves:
     Connect your iPhone/iPad to a computer with iTunes.
     In iTunes, select the iPhone/iPad.
     Select File Sharing, then Civilization VI.
     Drag the Sid Meier's Civilization VI folder to the desktop.
     Saves are stored in the Saves\Single folder.
Importing saves:
     Drag the Saves folder back into the Sid Meier's Civilization VI folder in iTunes.
     Confirm the overwrite.
     Sync to return the files to the iPhone/iPad.
Gameplay
Q: I can only play as Qin Shi Huang and I can't save.  How do I access more content?
A: The free download gives you access to 60 turns!  From there, you'll need to purchase the full version to select more leaders, maps, and save your game progress.
Q: How long does the battery last?
A: In our tests, up to three hours of gameplay on a full charge. This could vary based on device model and play style.
Q: Are controllers supported?
A: No.
Q: What languages are supported at release?
A: English, French, Italian, German, Spanish, Japanese, Korean, Polish, Russian, Traditional Chinese, and Simplified Chinese. Brazilian-Portuguese features text-only support.
Change your OS language to your preferred language and relaunch the game.
Q: Does Civilization VI on iOS have multiplayer?
A: Yes. It is important to note that as of this point, multiplayer is LAN only.
Q: Can I play my friend who is on PC/ Mac while on my iPad or iPhone?
A: Not at this time.
Common Issues
The complete game unlock for Civilization VI is sold as an in-app purchase. Apple does not support Family Sharing for in-app purchases at this time.
https://support.apple.com/en-us/HT201060
To play on multiple devices, Civilization VI would need to be purchased separately on a different App Store account.
FULL VERSION NOT UNLOCKING
Usually, a restart of your device will solve this issue.
https://support.apple.com/en-us/HT201559
If not, make sure you have in-app purchases turned on.
https://support.apple.com/en-us/HT204396
Lastly, check that you've selected the Restore Purchases option within the game.
The screen resolution for Civilization VI has been optimized to ensure the best possible game performance on iPad and iPhone.  
Have a question that isn't here? Check out our Civilization VI iOS: Known Issues
If you have any additional questions or comments, please don't hesitate to open a support ticket with us: https://support.aspyr.com/hc/en-us/requests/new