** Question about the 64-bit update? Click Here! **
Purchasing
Q: Where can I download The Sims 2: Super Collection?
A: The Sims 2: Super Collection is available on the Mac App Store.
Q: Which expansions and Stuff Packs from The Sims 2 are included?
A: The following content is included in the Super Collection:
Expansions
University

Nightlife

Open for Business

Pets

Seasons

Bon Voyage
Stuff Packs
Family Fun Stuff

Glamour Life Stuff

Happy Holiday Stuff
Requirements
Your Mac must meet ALL of the minimum system requirements below in order to maximize your experience. If you run the game on a Mac below the system requirements, you will experience severe performance issues and crashing.
Operating System

: 10.10.5 or newer

CPU

: Intel Core 2 Duo (2 core)

CPU Speed

: 2.2 GHz

Memory

: 4 GB

Hard Disk Space

: 10 GB

Video Card (ATI)

: Radeon HD 3870

Video Card (NVIDIA)

: GeForce 8800

Video Card (Intel)

: HD 3000

Video Memory (VRam)

: 256 MB

Peripherals

: Keyboard and mouse
Gameplay
Q: Which languages can I play in?                                 
A: You'll be able to play the game in English, French, Italian, German, Spanish, and Japanese.
Q: Will Aspyr be porting over the rest of the Sims 2 content to Mac?
A: The following content is not available for Mac:
Free Time

Apartment Life

Celebration! Stuff

H&M Fashion Stuff

Teen Style Stuff

Kitchen & Bath Interior Design Stuff

IKEA Home Stuff

Mansion and Garden Stuff
Q: How can I import custom content (mods) into the game?
A: Download The Sims™ 2 Extras app to expand your Sims™ 2 experience! The full guide is available here to help you get started.
How do I Reset my Neighborhood?
You can reset your neighborhood(s) via the launch screen: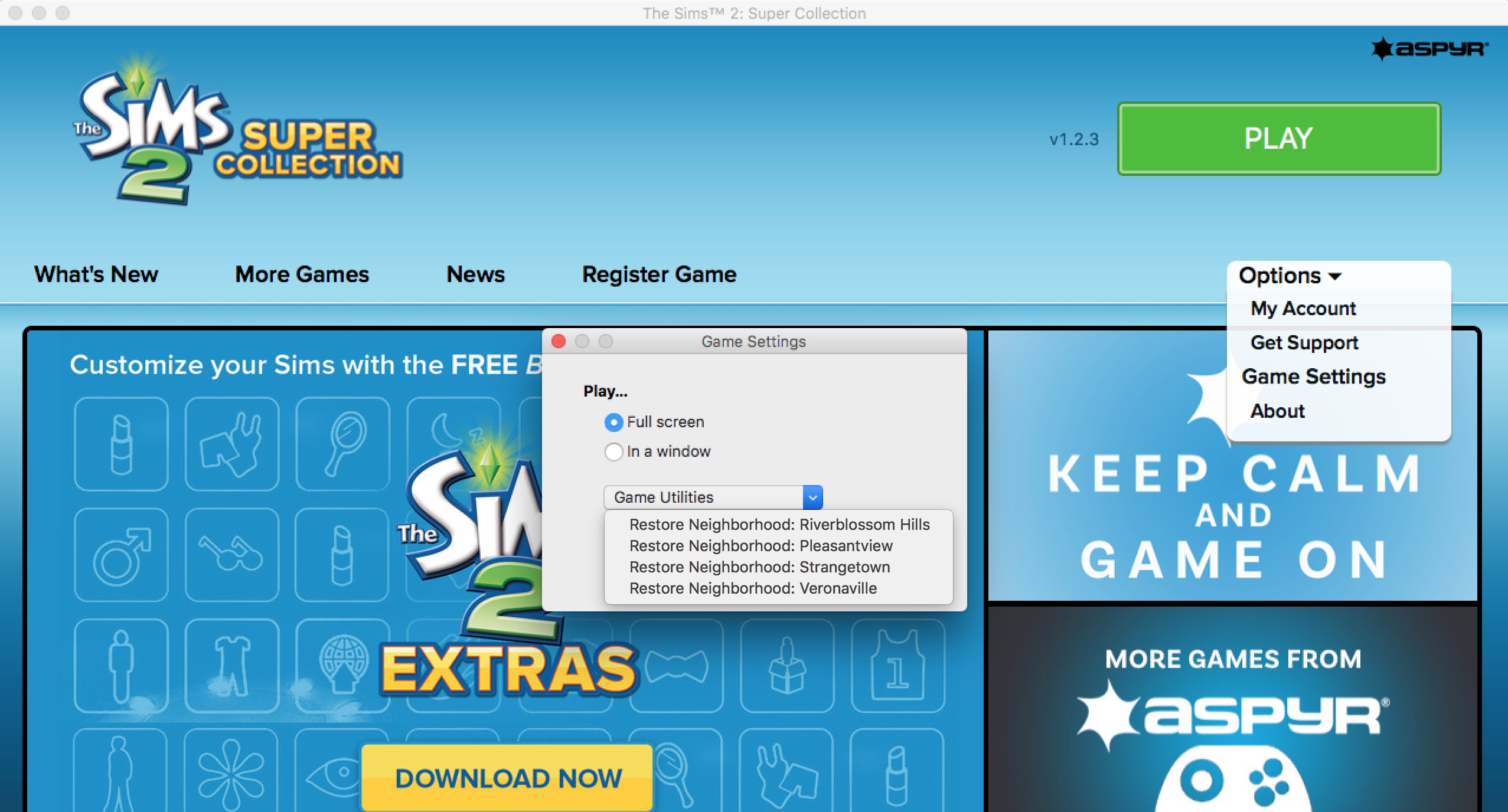 Have a question that isn't here? Check out our Sims 2 Known Issues.